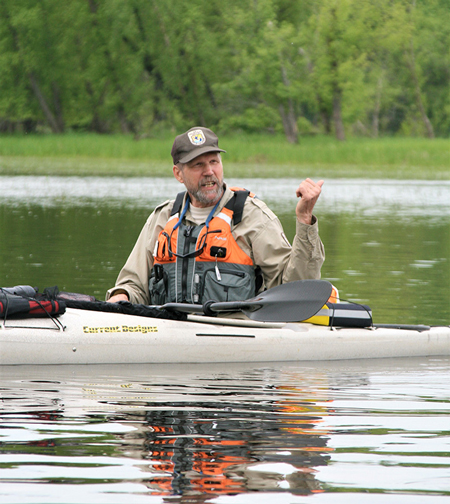 A National Trails Day paddling outing through the backwaters of the Upper Mississippi River National Wildlife and Fish Refuge (Refuge) will be led by Refuge Ranger Ed Lagace on Saturday, June 1, 2019. Paddlers of all abilities are welcome to join this fun and free event which will launch from the Finger Lakes Pioneer Access (Access) near Wabasha, MN. The Access serves as the trailhead for the Finger Lakes National Recreation Trail which is approximately six miles in length but can be enjoyed in shorter segments. Paddlers should arrive at 9:00 a.m. and expect to return to the Access by noon.
If navigating to the Access with a mapping program, use the address of 64739 140th Avenue, Wabasha, MN which is directly across the street from the launch site. The GPS coordinates for the Access are 44º 19' 10.39" N; 91º 56' 41.99" W. To learn about all the water trails located on the Refuge, visit www.fws.gov/refuge/Upper_Mississippi_River/canoe_trails.html.
To learn more about the American Hiking Society's National Trails Day, visit americanhiking.org/national-trails-day. You can choose to take "The Pledge" and be registered to win weekly prizes. To honor this pledge, attendees at the paddling event will be encouraged to pick up trash along the water trail.
Pre-registration is required by 4:00 p.m., Wednesday, May 29, 2019 by emailing or calling Ranger Ed Lagace at 507-494-6236 or ed_lagace@fws.gov. The Refuge will provide canoes, paddles and PFDs for your use, or you can bring your own equipment.